Welcome to the Near by Music web site.
We're a small independent record label based in Somerville, MA. Artists on the label include jangly troubadours Capital City, VFW jug band all stars The Dormouse Choir and bossanova glamrockers The Solar Saturday.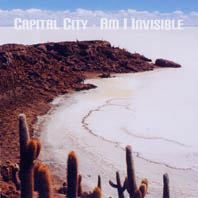 Our first full length is out! It's Am I Invisible by Capital City. Recorded by Brian Brown (Tanya Donnelly, Pilot to Gunner, Bill Janovitz) at the hallowed Fort Apache (Sebadoh, Yo La Tengo, Uncle Tupelo, Radiohead, Come) this album will leave your jaw dropped and singing for days. Of course we have output by all of the acts in the releases section. Buy it now from Amazon.com.
All of our releases are distributed Morphius Distribution.
If you curious about how we got here, check out the about section, or email us.
BTW - on this site the links and the text are white. Names of sites, bands and pages all typically link. So, put your mouse over the text to see if they send you onwards...
Happy rocking!
- the Near by Collective